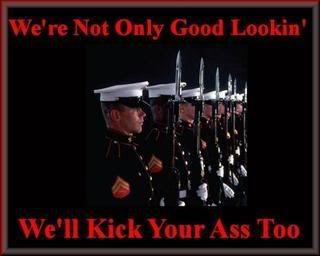 Well Barry has started to settle back in. I am still in shock that he is finally home safe and sound.
Barry now has clean laundry, has had a few hot meals and several hot showers.
Now Barry is out getting a new tattoo. LOL
I remember just 7 months ago I was crying because all of my boys were leaving and now they are coming home. Now is my turn to dance.
I told Rusty that is strange. I cried when the boy's left and now I am crying because they are all coming home.
I gave Barry the blanket I made for his baby. I am so glad that Barry will be there to see the birth of his first child. Then it hit. Barry is going back to North Carolina because that is where his wife is. Then he will come back here and pcs in November. I will never get to rock his baby. I have a rocking chair and no babies to rock. Barry promised me that he will be back for a visit and that I will be able to just sit and rock the baby.
Today has been much of the same. Laundry, cleaning, and just still in shock that guys are coming home.
Over the weekend I saw an ad for a free English riding saddle. So I went and picked it up. Rusty and I were thinking that it would be in bad shape. Oh NO! This saddle is so nice. The lady even gave me the pad and the cinch for it. So we started looking on e bay and those saddle's are expensive.
Rusty and I are going to list the saddle on e bay. I have never used and English saddle before but put me in a western saddle and saddle stand back! LOL
Flash back. Rusty and I were over at one of his friends house and they were out looking at this guys horses. Old Fred was saddled up and I knew that old Fred was once used for cattle roping. So I asked if I could ride old Fred. I went out in the arena and set up some cones. I adjusted the leg straps and hopped on. Old Fred and I trotted around for a while and then I said to myself "Lets see if I still have it." Fred and I started going in and out of those cones. I looked like a pro. Rusty and his friend just stood there in shock. Yep I still had it. I think that was the first and the last time Rusty has ever seen me ride.
Well laundry is waiting to be folded, sewing is still waiting for me, and Nikki just called to say that she 100% on her advanced placement geometry quiz. I swear I was never that smart.