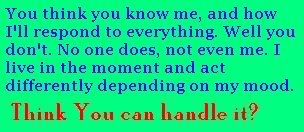 Tonight I was moving more stuff. Sam came over and helped out. Then I took the children to dinner and it was back to the house for another load..... the last load of the night.
We were not in the door more then five minutes when Rusty walked in.
Rusty was tired, hungry, and just wanted to go to bed. I went out side and sat with him. I was telling Rusty all about the move. That was when I said " Just think you can come tomorrow and everything will be done."
Rusty said that he felt bad because he was not hear to help with all of this. That was when I said "You should be glad that have a wife that can handle this."
While I was picking up a box full of dishes I caught Rusty looking at me.
I called my shrink. He told explained to me that guys want to do it all and they want to be the super hero's.
Rusty you are my super hero. Every day you get up and go to work, while I stay at home.
You cook me chicken because you know I hate beef. You will buy me shrimp just because you know I like it.
You worry about me. Weather it is a flat tire or weather I am sick. You worry if I don't answer my phone right away. You worry when I drive out of our little city.
You worry about our children. Are we raising them right? Do they have everything they need? What more can I do for them?
You did not buy new work boot's because you knew that I needed new shoes. I do not know what you gave up to buy those earring that you gave me last year for my birthday.
You allow me to foster animals even when it would be easier if I did not. You put up with my sewing stuff being all over the table. You put up with my mood swings.
You never complain about days that I do not want to cook dinner. You never complain when I forget to set the coffee pot, or when I wash your coffee cup. You never complain when the kitten help you get dressed in the morning or when when of them wakes you up at 3 a.m.
Rusty you are my hero. You are the one who has seen me through some of the toughest time of my life. You were there when my ex came after me, when my dad died, and when I wanted to give up on life. You have been my rock for so long.
I may be the crazy girl that has nappy black people hair. I know that I am rough around the edge, and not always a nice person. I know that at times I can snap at you and yet you are still here.
Rusty,you and I have always been a team. It is just that I do not pull nearly as much weight as you. I am doing this move because I love you and because I want to take some stress off you.
I love my husband and I am not ashamed to say to the whole world. I am married to the best man ever.