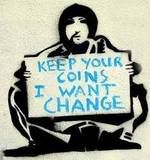 So last night I called my best friend and said lets go to dinner. None of the children are home. So I got there before he did. I ordered our drinks and then he showed up. He showed up and I still looked like crap, but he was happy to see me anyway. It was nice to sit and talk. No cell phones ringing, no children, just the two of us. I so love my husband.
Yes the house is nice looking! Can you believe that very white trash people are going to live there? We have three trash cans because one is for recycling, one for trash and one for yard waste.
Betty said that she liked the Jack Daniel's bottle in the back ground of one of the pictures. Jack is Rusty's drink of choice. Rusty's doctor said that he could have one mixed drink a night. Sometimes I let him have more! LOL
Does anyone want to adopt Amber? I will send you announcement if you will send her a card. Amber is very sick of not having family.
Last night I was going through some stuff and I noticed that a picture was missing. The picture was 8x10 picture of the five of us with my mom and dad. I never hung the picture up because I am not ready to see any pictures of my dad. That picture was taken two years ago and at that point my dads mind was 90% gone. That damn cancer, the damn U.S. Army.
Well, the picture is gone. I asked Rusty if he had seen it. He said no. I asked Nikki and she said no. I called Amber and she said, " I put it in a frame and hung it up at the new house."
Great, Today I get to go to the new house and see a picture of my dad. I am not mad at Amber. I am just not ready to see my dad. He has been dead almost two years and I am still very angry at him and I still don't want to believe that he is gone.
More from the family ties that bind and gag.
My dad comes from a big Irish, Catholic family. The children are: Karen, Keith, Kevin, Katherin,Kollette,Kerry,Jane Ellen,Anne.
Karen is my dads older sister. She married an Italian and they had three boys, Chris, David and Marc. Karen now lives in Vegas and is a raging drunk. John spends most of his time in Italy where he still runs his family's business. I have not seen or heard from any of them in 18 years. Karen came to see Amber when I brought Amber home for a visit. All she said to me was " What do you think you are doing? I am not old enough to be a great Aunt"
Keith. My dad. Dead
Kevin is a physco Vietnam vet. Kevin actually watched me when he came back from Vietnam. Kevin did not speak for something like 5 years. Gee is that why I did not learn to speak until I was three? My day care provider was a physco Vietnam vet who did not speak. Kevin has three children: Kelley, I can't remember her name and a boy named Mike. I have not seen or heard from them in over 18 years. I did hear that one of the girls went into the convent.
Out of the other remaining four I know that one is dead. Jane was adopted so she is only about 5 years older then me. I have no idea where she is or what she is doing. Anne is by my grandfathers second wife and is only a few years older then Amber. I have no idea what happened to her.
Today I need to go buy a crate and some bubble wrap. I am going to pack up my light houses for good. I will not have room for them at the new house so I want to make sure that they are safe.
Here is the link to the light houses that I collect.