Well what do you think? Here is a picture of our new house, and some new pictures of the babies! I was just looking at the pictures of when we first got them and I can't believe how big they are. I guess I don't see it because I am with them all the time. The kittens should be ready to go back to the shelter by the end of June. Then they will get fixed, and I think I have homes for both of them! That is two more lives that I saved.
So yesterday I asked amber if she was ever going to mail out her graduation announcements. Amber said " well do you have any addresses and who am I suppose to mail them to? I have two grandmother's and that is it."
HMMM isn't this why I did not want to waste the money one those announcements? I now have 20 announcements and no family to send them to.
Think about this. Between Rusty and I we have my mother. Rusty has a brother, but they don't speak. I have a sister but we don't speak. We each have aunts and uncles, but we never see them! Maybe I can go buy some cut out figures of people and call them our relatives. I can prop them up in chairs, and at the counter? They would not eat much.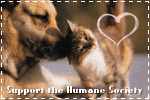 Today is much of the same for me. I need to pack a few more items. Ambers old boyfriend Sam is coming over to help me move some stuff, so that will be nice.
There is a new boy sniffing around Amber. His name is Jake and they go to school together. So Jake calls Amber last night and they ended up going to the pool for a few hours. I am interested to actually meet this boy. I wonder if he will be able to hang?
Well, the realtor that ended up with our house came by yesterday. He did not actually give us a move out date. We are holding for this program that they have called cash for keys. This is where the bank pays renters to move out. O.K. yes I know that we have a new place, but the realtor does not know that and we can use all the extra money we can get. So I am waiting to hear from him.
Rusty sold a scope on e bay yesterday. Bless his heart. He really liked that scope, but he said that he does not have the right rifle to mount it on anyway.
Anyway, life and time march on and my day is waiting for me to get it started.