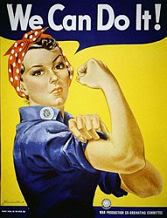 I am sure that this entry will cause a lot of controversy, but I don't care. This is my journal and this is on my mind.
Over the past few day's I have been able to talk to Barry. We have talked about everything from his new baby, to this deployment.
Barry said that once they got into March Air reserve base and they got their busses load, the marines started to load onto the busses. That was when they were stopped. In Barry's words: "The male marines were crammed into two busses. We were sitting balls to ass and on the floor. There were five women with us, and they got a whole bus to themselves."
My comment back was "That pisses me off. These women scream about being treated as equals, but they can't ride in a cramped bus with a bunch of smelly guy's?"
I do not believe that women should serve in combative roles. I did not want a women in a hole with my husband. I did not want to have to wait for adrenalin to kick in so that she could move my husband out of harms way.
However if they want equal rights then they should be treated as equal across the board.
I know of guys that deploy as soon as their babies are born. So then why do women get to wait for six months? After six weeks your ass should be out of here.
If our boy's can sleep on the hood of a hum v then why can't the women?
I think that all of these women who scream for equal rights need to not speak for me.
I enjoy not changing my own oil. I enjoy not killing spiders, not cleaning up dog poop and not taking the smelly trash out.
I enjoy not having to do heavy lifting. I enjoy not changing my own tires.
I do however love cooking for my husband. I love being able to stay home and raise our children.... even if I want to kill them most day's. I enjoy doing my hair and putting on body spray and looking like a women. I enjoy making my husband his lunch and doing his laundry.
I enjoy so much about my life that I do not want equal rights.
I do not want my husband or any of the boys to treat me like one of the guys. I want to be tucked into bed when I don't feel good. I want a bag of chocolate just because. I want my husband to say you smell so good.
If I wanted to be treated like one of the guy's I would get slapped on the back, be forced to change my own oil, and I would have to sit ass to ball with a bunch of stinky marines.
No Thank you!
So to all the women out there who scream that they want equal rights but only when it suits them, I must say "NO THANK YOU".
I do not equal right's. I want my husband to continue me like the princess that I am.