The other night I could not sleep so I decided to take a sleeping pill. These pills usually don't bother me, but for whatever reason that night I had some strange dreams.
One of the dreams I had was that I was having sex with Toby Keith. I was digging this dream when Nikki woke me up by poking me. Nikki said mom " Mom I keep throwing up" I said " I am having sex with Toby Keith, go take an anti vomit pill and go to bed"!
I won't win mom of the year award for that.
The other day I had to block the military channel. Ryan really likes this channel, but one of the shows just sent me into a tail spin. The military channel had followed some marines around, and they brought this damn war into my living room. The things I saw and the language I heard was not good. When I told Rusty about this he agreed that I should block the channel and that we do not need this war brought into our living room. Let's face it, I live with the side effects of this war everyday.
For the most part I like where we live. I love being close to Nikki's school and close to where Amber works.
I could do without the drug dealers across the street or the ass hole who likes to fire his shot gun off at mid night, but other then that I am o.k. here.
Then the other day I get a call from my friend Linda who also happens to be my land lady. It seems that someone wrote a letter to the owner of the house saying that I have mean dogs and 10 cats.
Linda came over and took a picture of our dogs, and did not say much about our cat's. Linda got back with the owner and everything is cool now.
I am just pissed off that there are some nosey neighbors who seem to think they know what is going on inside my home.
They do not know shit about me. Other wise they would know that I keep a very clean house, all of my animals are very well cared for, they are all fixed and they all have their shot's.
This is why I try very hard to not to get to know people that live around me. I don't want people at my door and in my business constantly.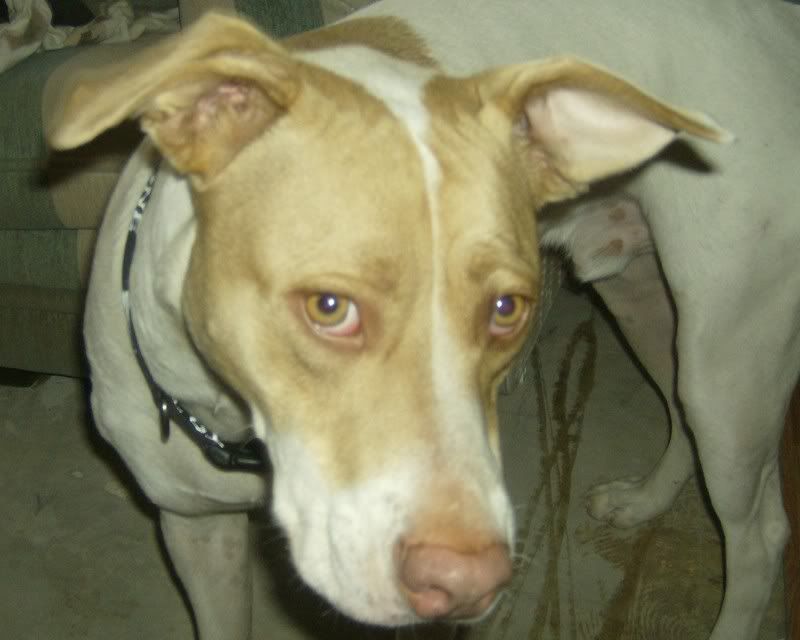 Rusty left for his trip this morning. He will be gone almost a week. I am not worried I have butter ( the dog above) and a revolver. So I am good.