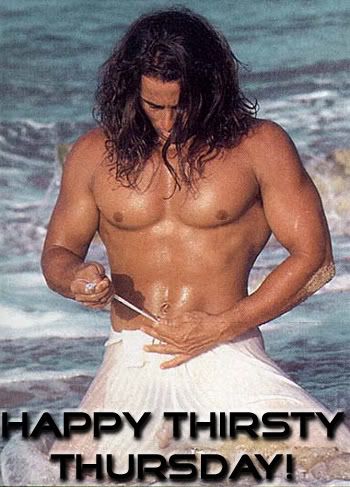 Well everyone before you start to read, go grab your coffee and get comfortable.
Last Friday Beth, George and I went to the goodwill to do some shopping. It turns out that it was 50% off day! Man we all cleaned up! I got my ball gown and I only paid $4 for it! I could not believe it. I saw the dress on a dummy and I made George help me undress it so that I could try the dress on. It was a perfect fit! The dress is very simple and everyone has said that I do not need to embellish it, but we will see.
I also got this long black,sexy little thing from Frederick of Hollywood. So while Rusty was going to the bathroom I slipped it on. I swear his eyes popped out of his head! I asked him if he wanted $4 sex, and he did. I can't believe that I got a Frederick of Hollywood nighty for $4!
On Saturday Beth's brother,Alex, came in. Beth got out of the service so Alex was going to help Beth drive across the country. So Sunday, I took Alex over to see the ocean. Alex had never seen the ocean, so it was so nice to see his face when h felt his first wave hit his feet. I could not have timed it better. The sun was going down, the ocean was packed with surfers and the water was warm! It was so nice to get to know this young man and to spend some time at the ocean.
Monday was a bad day for us. The computer went down. Beth got a call saying that her mother has to have a massive tumor removed from her stomach. Then one of the kittens took a really big turn for the worse.
Also on Monday a marine hurt me really bad. I was sitting at the sewing machine and I was sewing some stuff for the shelter since I was going to be going down there on Tuesday. This marine comes in and say's "what are you sewing mom?" So I told him. Then the marine says to me " Will I ever get my quilt? If not I can I ask George to make me a blanket." I just looked at him and said "If you want to ask George to make you a blanket then go for it. Everyone gets a blanket before they leave for Iraq. You will get yours."
What is that about? I make these blanket out of the kindness of my heart and they are not cheap to make! I just cant believe that he would say that to me.
Tuesday I had to take the kitten to the shelter and then down to the vet's office. The poor little thing lost so much weight that it was nothing but skin and bones! They gave her a bag of fluids and put her on a special food. It turns out that she has worms and that they worms were eating all of her food. The poor little thing was starving. So now she is on a very high calorie food and has to be fed about once an hour. I just know that she will pull through this.
Wednesday Rusty finally figured out what was wrong with the computer. It turns out that we had a virus!
Ryan has been bugging me to decorate for Halloween. I am so not in the mood and I do not even like Halloween. So, he was having an autistic moment and he kept bugging me. I just lost it. i finally told him that I was not going to decorate and that there would be no trick or treating this year. I am letting them go to church for their celebrations. At least that way I know that there will not be a pervert watching my child.
Today I am going to finally finish Nikki's quilt. I had run out of material so I finally got more. Today is going to be a sewing day.
It is actually cold again. I am thinking about turning the furnace on tonight. brrrrr