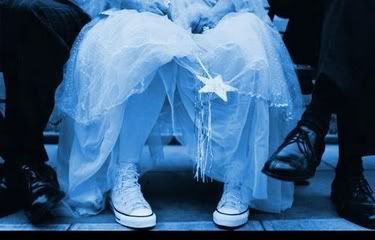 So Rusty came home last week and told me that we had be invited to 1 mef staff and officer ball.
For every one not up on the marine corps lingo 1 mef stands for 1st Marine Expeditionary force. Staff and officer ball mean a lot of snobby people.
O.K. so this is very important to Rusty. I sent all of his mini medals down to get mounted. (he can now wear his mini's on a tux since he is not wearing his uniform) Now I need to remind Rusty to get rent a tux.
Then there is me. What dress should I wear to the ball? Last year I cleaned out all of my ball gowns. I got rid of all but two of them, and I really do not want to wear either of them. I always try to find a dress that will make a statement, with out looking like a slut.
So this year I have a dress in mind. I am thinking tie die with pot leaves. George told me that I could not wear that unless I wanted to give Rusty another heart attack.
So I have decided to shop all of the thrift stores and then add all of my own little touches to it. I do promise no pot leaves.
This could be fun. I have never decorated my own dress before. I usually just try to find a funky one. Now I going for funky and hippy.
I swear that my children are going to eat me out of house and home. Just letting you know that since they are in the middle of cooking dinner.
Any way back to the ball. I need to start looking for a new dress.
I keep thinking of this line from "We were soldiers and young once" The ladies were standing around and one lady says to another. "get out your best dress lady, the guys will want to celebrate"