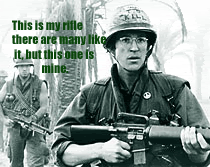 Some of our friends left this morning for a tour in Iraq. They will be home in March, so I WILL be there to welcome them back home.
Rusty said that these big bad marines looked so cute carrying all of their gear and a blanket! Who says that marines are the tuff guys?
Yesterday my mom and I got the roof put on the sun room and I got her deck scrubbed down. Yesterday was a long day! LOL
The hospice nurse came in today and she said that my dads lungs are diminished and his heart rate is starting to slow down. I don't think it will be long now.
I am holding up really good. I am staying strong for my mom and dad.
I posted some pictures of my dad from when he was younger. Everyone says I look like him! LOL
I hope everyone has a great day!