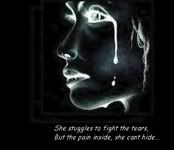 I no longer want to be here. I want to go home to California. What was I thinking by coming here?
Today my dad has done nothing but yell at me! Go away, you don't know anything, stop trying to help me, these are just a few comments from my father. To top it all off all he is worried about is when Kailey will here. ( my sisters child)
What the fuck? Even on his death bed I am not good enough for him. Why am I fighting for him? Why am I crying for him? Why am I even here?
All I know for sure is that Kailey will be here at some point today. I will try not to kill her. Yesterday when she was here I just avoided her and when she came to give me a hug good bye I just patted her on the head.
Today I hope that my eyes shoot arrows into her soul and that she know that I despise her.
I know that is mean, but that is how I feel. Anyway, enough of the pity party. I am going to go clean the van for my mom.