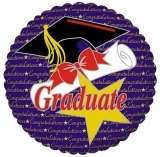 So Rusty and I went down to Amber's school and ordered all her stuff for graduation. We only spent $100. Now that is not to bad, but man things have change. We actually had to buy Ambers cap and gown. Amber will get to keep it when she is done with it. I told Amber to not get to attached to it because I will hem it up and let Nikki wear it.
We also only ordered 25 invitations. We do not even know 25 people. Lets see.... Rusty's parents are dead. My mom will come out. My sister only come out if she has a death wish. So there is our family. My mom. Amber did say that she is going to invite her sperm donors mom. I don't really care either way. So what do we do with the other 23 announcements?
I talked it over with Rusty and I am going to go back to the district attorneys office and have them take my ex back to court. I want him to continue to pay child support and to carry insurance on Amber as long as she is in college. Now he does not pay his child support very often, but that bill will keep racking up. My ex also does not carry insurance on them but Amber then gets state aid.
I could get cash aid and food stamps for the girls, but Rusty has told me no several times. Rusty said that the girls will grow up knowing who took care of them and loved them. He is right the girls do know, but the extra money would help.
I guess the worst that could happen is that the judge says no.
Today I need to go to wal mart,walgreen and to the grocery store. I need to get all of the food for Saturday night, and food for us for next week.
Last night I finished the quilt that I was working on and it turned out so cute. Yes I will post some pictures of it.
The cat rescue went very well yesterday. I borrowed Ambers camera, but her batteries were dead, so these pictures were taken off a phone, so they suck.
I was told that these cats were less then a year old and still have a lot more growing to do.
Rusty took today off, so I am going to go spend a little bit time with Rusty before I start my running around.