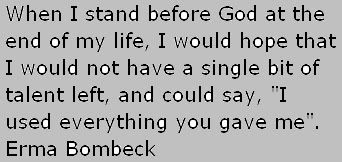 I believe this quote come from Erma Bombecks last book. I am not a huge reader, but I have read everyone of her books and I laughed my ass while doing it. Erma wrote a book called families the ties that bind and sometimes gag.
Well that is where I am today. Yesterday I was so tired and all I wanted to do was take a nap. The kittens had been up the night before and my ass was worn out!
**** SIDE NOTE**** Lyn it is o.k. that you do not like cat's. Just think how boring this world would be if we all liked the same things! LOL
Now we need to flash back to time before Rusty was born. Rusty's parents met some other guys and they swore that they would always take care of each other. Uncle Bill and Uncle Dale were like fathers to Rusty and his brother Andy.
Now we are back to the present day. Did I mention that my ass was worn out yesterday? So I was laying down when Rusty calls me. I answer the phone and Rusty say's "I gave my Uncle Bill your phone number and he should be calling you".
Fine. I was just about to fall asleep when Uncle Bill called me. Now I have talked to this man on the phone before but I have never met him. From what everyone tells me Bill is strange, but then again so am I. Anyway, Bill starts asking me questions about Ryan and I answer them. Then Bill starts asking me about Andy.
Red flag alert there! If you mention Andy that vein in Rusty's head start's to bulge. I just came out and asked Bill what he was trying to get at. I also very strongly suggested to Bill that he stay out of Rusty and Andy's relationship or lack there of.
Bill goes on to tell me that Andy's son has Autism. Now the vein in my head is bulging. Andy and I got into a pissing contest via e mail about how Rusty and I raise our children and about having a handi cap child. Now all of sudden we find out that Andy's son has Austism?
****side note**** Andy lives in the UK and none of the relatives back here in the "colonies" even knew this child was born until Rusty's dad died and by then this child was something like a year old. If I had to guess I would say Rusty has not seen his brother in 12 years and has never met Andy's son.
So why now? Why is Uncle Bill calling us? Why is he speaking with Andy about these things? Or did Andy contact Bill? Why not just let sleeping dogs be.
This morning Rusty and I were outside were having our coffee and smoking when Rusty brought this subject up. Rusty has mixed feelings about all of this.
I just laughed and said well my family is no better then your's. We do not have a skeleton in the closet, we have the whole damn grave yard!
I got some sleep last night, so I am feeling better today. I have to take nikki to wall mart to get some stuff, and then Nikki will be gone for a few days. Nikki is going dirt biking out in the desert. That sounds like fun to me!
I also have to get some more nipples for the kittens bottles because one of the older cats ate the nipple off and then drank all of the kittens formula. I guess it wont hurt them, but now I have one bottle and two mouths!
Here is a very true fact about me. I can't read a map. If you give me a map we will all be looking for blue and red roads. So with that said. On this installment of road trip we are going to New Jersey.
I picked everyone up here in California so now I am going in order as the comments were posted.
Michelle, send the children to your ex's and pack you bags, and your pets! We are now joining us on the rv.
Here is all of Michelle's info and the link to her town!
http://i208.photobucket.com/albums/bb146/miloangelo/quote.jpg