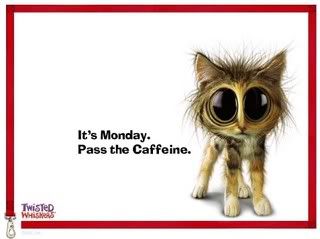 So over the weekend I just spent it here at the house. I stayed away from the computer and the phone.
Over the weekend I did get some sewing done. I made a skirt for George, and some pet quilts.
Then I actually took the time to sort through my material and get it all organized. Man that was a task, but it so needed to be done.
I did some cleaning out as well. I would like to know how we get so much junk. It just amazes me that we have so much stuff.
I also helped Rusty clean out his truck and put new seat covers on. I really enjoyed spending the time with Rusty, even if we did just clean out his truck.
One of our friends stopped by. He was riding his new Harley. I was so excited when he pulled up. First of all I have not seen him in a long time. For the record he is the other half of the twins that are serving in Iraq. Anyway I had to go for a ride on his new bike. I leaned forward and said " you know there is no better accessory for a girl then some hot guy driving her around on a Harley." He just smiled. It was so nice to hit the road yesterday. I love riding on motor cycles, but I would never own one.
Today it is back to reality. I can't stay locked up anymore.
I have to print some stuff off the computer, call and see if some permits have been pulled, and figure out when we start demo. I need to get all of this done this morning so that way I can call the marines and let them know when we need them.
Once we have that date locked on I will need to call and get the dumpster's, and start getting our food donations brought in.
Oh One of the other post was kind enough to donate us 10 cases of water! That is such a huge help for us. Also Starbucks is donating all of our coffee! I love my Starbucks.
I never really knew that much about construction, but man I am now learning a lot. I never knew so many permits had to pulled or that we would need an asbestos report just to take thing to the dump.
I am glad that I have decided to stick to my word and to still help because I am learning so much about construction.
Before we moved I was cleaning out my closet and I almost threw out my steel toed shoes. For some reason I decided to keep them, and now I am glad that I did. I am going to need them!
Now you may be asking yourself why in the world would I own a pair of steel toed shoes. Through out the years I have worked odd jobs just to make ends meet. I have done everything from construction clean up to unloading trucks by hand. I have just about done it all. So several years ago I invested in a pair of steel toes just to protect my feet. Life is so odd sometimes.
Well my day is calling me and I just know that soon my phone will start ringing, so I better get busy now but the real rat race begins.