Well the kittens have had their breakfast and they are now sleeping. Amber and Ryan are still sleeping, and Rusty is at work. Right now I would normally be cleaning something, but my hips are killing me today!
I checked the weather report and we are not getting any rain soon, so i do not know why my hips hurt so bad.
When I was giving birth to Nikki my hips popped out of place. The doctor was kind enough to leave them out until after Nikki was born. Now they pop out of place all the time and I swear I have arthritis in them.
Yesterday Amber took Ryan up to the pool. They were gone for a few hours and then when they walked in the door and Amber had this strange look on her face. Amber said "Well mom I now understand you a little bit better. When I walk into a room and see staring at Ryan what the "what the F*** look and your face and breathing very deeply."
O.K. now Amber has my attention. I said "What happened?"
Amber said "I put sunscreen on Ryans hands and told him to rub it in. So he rubbed his hands together and then said "is this good?"
I just laughed at her. For once someone else was in my shoes. I reminded Amber that you have to say rub this on your legs, now on your chest, now on your arms......
Yesterday I asked Nikki if she still planned on going to the Navel academy to get her engineering degree.\
Nikki said "Yes, nothing has changed there. I want to get my engineering degree, then go into the Navy with the Marine option, and then I want to go to the mission field."
I asked Nikki if she had found a summer job yet. Nikki told me no, but that she wants to talk to some contractors and see if any of them would take her under their wing and teacher everything they know. I think this is a good idea.
I heard from one of the marines yesterday and he said that everyone out there is doing good. I was so glad to hear that.
I finished the blanket for Lewis and he should be leaving with in a few weeks. Lewis is happy that he will be with his twin.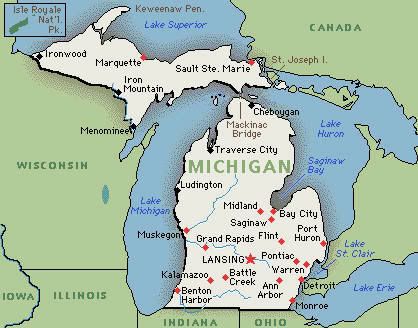 \
So today we are going to Essexville, Michigan. So Michelle pack your bags and leave the winter clothes there!
Here is a memory that you guys will laugh at, but I still to this day not find funny. I was little. Maybe 3 or 4? For whatever reason my parents took us to Michigan. It was so cold there!
Now I don't remember this part of the story so according to my mom, I wanted to go see the ducks. So my father took me outside to see the ducks. My mom was watching from the hotel window.
I do remember be surround by ducks.
I do not remember this, but according to my dad a duck made it's noise and it scared me so bad that I jumped in the lake or pond. My dad went in after me.
I remember my dad handing me to my mom, but that is it. To this day I hate ducks and they scare me. When I take the children down to the lake to fed the ducks I stay away from the water.
Why? I don;t know. I know how to swim now, but man I am still scared of ducks!
Michelle are you ready to go? I could not find the link to your journal, so please e mail it to me and I will add it.
Wow you live in a small town!
http://journals.aol.com/eeofficemgr/michelles-rantings/