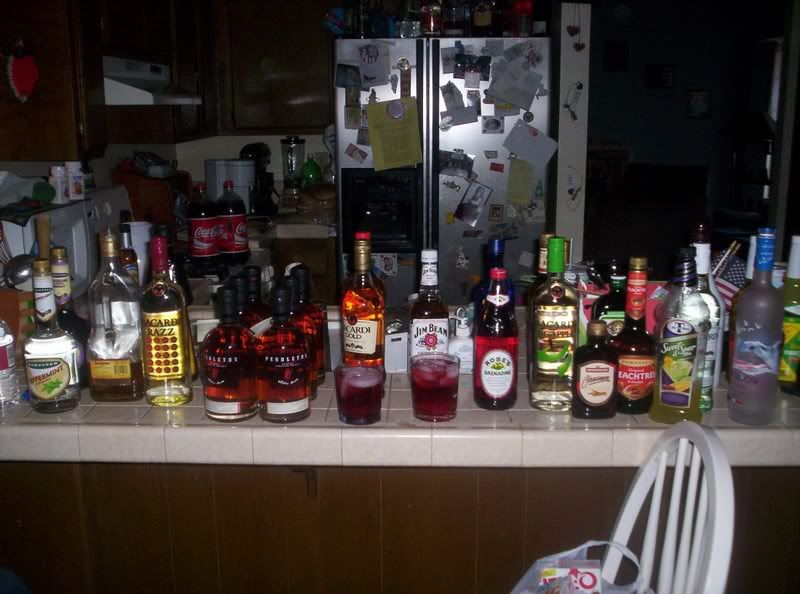 Yes everyone that is my kitchen right now. I have a feeling it is going to be a nice weekend.
On to the pictures above. There is one of Hailey with her quilt. The black kitten is the one that Rusty said I could keep. The big cat is our original cat. Yes he is a big boy.
So I found out earlier today that my dishwasher gave up. What? It cannot give up, I have 20 people in my house for the weekend. I suggested that we pull it out and try to fix it. Rusty suggested that we just go buy another one. I am cheap I will keep looking, there is no way I am going to pay a lot for a new dish washer.
Today I had to go get Ryan an i.d. card. The last time I went to base and got Ryan an i.d. card they let me sign his name to it. This time they told me that I could not do it. So I asked the guy if Ryan could put and x on the signature line. They told me no. So where the signature is suppose to be they put Incapable! What is that about?
So tonight I am going to do nothing. I am going to just hang out with everyone.
Rusty wants to take the boat out tomorrow. I am thinking that would be a bad idea. The lake is going to be packed and unless we get there by 6:30 there is no way we are going to be able to launch the boat.
Oh I should say that the boat is not ours. It belongs to house guest from hell. He is not here, but we have his boat. Rusty and I briefly talked about our "vacation". He had nothing to say when I told him that I did not want to go.
I must admit that the last few weeks Rusty has just made me feel like shit. I know that he does not mean to do it, but he has. Why will he drive all the way to Oregon for a friend, but can't take me on a real vacation? Why is it that he went to the bar with Jake when he has not spent anytime with me this week. Why am I the one being left behind while he is out having a good time. This just sucks.
My former mother in law called me today and asked me if I had changed my mind about letting the girls see her. It seems that my mom called and asked my former mother in law to drive out there and spend time with the children while they are at a museum. I told my former mother in law that I had nothing to do with that. It does not surprise me that my mom would say one thing and then change her mind at the last minute.
I am so sick of not being able to trust my mother to keep her word. I am just glad that this will be the last year that the children will be going out there. From now on if she wants to see the children she will have to come out here.
Tomorrow I am going to finish up the last minute laundry and finish getting the children packed up. Then I plan on spending a lot of time at the beach and maybe have a silent day.
Last year when everyone was on my last nerve I grabbed my lawn chair, a notebook, and some money and headed over the mountain to a place called San Juan capistrono. It is a nice little place with some cute shops. I had a blast just walking around and looking at everything. I ate lunch at a little cafe and then I went and sat on the beach. I took my notebook with me so that I could just right random thoughts down as they came to me. I turned off my cell phone and spoke to no one. It was such a nice day. I think I need that again.
On that note I am going to go drink a milk shake.