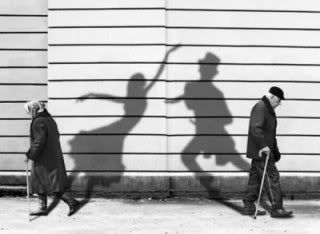 I am not sure if I have ever mentioned this before or not, but I am double jointed in hips. Now trust me when I say that Rusty LOVES that. However he does not hearing the words " hey baby now that we are done will you please come help put my hip's back in"
Well for some reason my hips were really hurting me. I went to bed thinking I might get to sleep before midnight. Rusty and I ended having sex. I said " be careful my hips are really hurting me". So we get done and I was like get off my legs are going to shoot off my body. Then rusty rolls over and groans as he lands on his bed. Oh my gosh we just had old people sex!
Today I took Beth down to se the doctor and she was released to go back to work tomorrow. Right now Beth is reading a book and it is so nice to see her up and reading!
Over the weekend Hailey (one of the marines) and I were coming home from somewhere. When a man with no shoes crossed the street in front of us. Hailey said turn around I want to give him my shoes. So I turned around. The man would not take the shoes because he said that he had some, but just did not feel like wearing them. He said that he was just starting his rounds on collecting bottles and cans. Neither Hailey or I had an money on us. So I said come on. Lets clean out the car. We gave the man two bags of bottles and cans. It is little moments like this that I love sharing with the marines.
Well dinner is in the oven cooking. We are having shake and bake ( generic) chicken, scalloped potatoes, and green beans for dinner. I think everyone will be happy with that.
Amber is very upset because she can't find a job. I know that she will find one, and I am just encouraging her to go out there and to keep looking. Amber is finding out how much it sucks to have bills and no job.
Over the weekend I straightened my hair. Rusty said that he loved it. I said " I thought you liked my curls more" he said that he does but now that my hair is straight he can actually run his fingers through it! The marines were really shocked to see me with straight hair. One of them said that they were shocked at just how long my hair actually is.
Today I took back three out of the four kittens. The fourth one we are keeping, but she is not big enough to get fixed yet. So now she is walking around crying, and looking for her litter mates. Poor little girl!
I am off to finish some stuff before Rusty comes home.