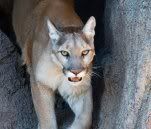 Yes everyone those are my daughters! Since I have had children there are no pictures of me in a swim suit. I do not know why, but there just aren't any.
I was watching the secret lives of women and they had a show about cougars. Cougars are women who date guys who date guys a lot younger then they are.
So last night Rusty and I were talking and I was telling him about this show. I have had guys say to me "When Rusty dies I am going to marry you". I just laugh and say " You don't want me, besides I think I am going to swing the other way". That usually catches them off guard and they do not know what to say other then to say " can I watch".
Back to the cougars, so I told Rusty that I thought it was very interesting.
So Rusty says " Let me get this straight. Women who date much young men are called cougars? Is that because these young men are their prey? i wonder what they call older men who date much younger women?"
I said " they call them perverts! That is why people look at us funny when we go out together. You look older then you are and I look younger then I am".
Rusty just gave me this look of shock, so I had to add to the shock. I said "the next time we go out for ice cream I am going to call you dad, and I am going to keep saying it until everyone in the place hears us and then I am going to start making out with you!"
Rusty said "The sad thing is I know that you would do that"
On another subject. Rusty has lost another 10 pounds and he is down to about 180. For a guy that is 6'2" that is not bad! I am so proud of him. He has needed to lose a few pounds.
For the last few days every time I have tried to at solid food, well lets say that it does not sit well. So I am going to go on a liquid diet for a while and se if I can't get this "bug" out of me.
Nikki called me. I missed her call but she left me a message saying that she was good and that she would be home around 1 am Monday morning. I am so glad that she isdoing good.
Today I am going to do some sewing and just chill out for a while. We have a friend coming in from 29 palms and the marines will be showing up here later on tonight. I hope no one is sick this weekend. I want to party and do something fun.
Check this out! One of Ambers teachers just called me and it is the one who is leading the group to Europe. Anyway, they still have some openings for the trip to Costa Rica! That trip goes between Christmas and new years and it is only $1,800! So Amber and I are going to sit down and talk about what we can fo to help her raise money to go on both trips.
Well, nothing is getting done while I am sitting here, so I better get my ass in gear.