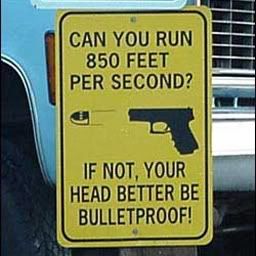 I just saw a thing on aol that said that 9 out of 10 Americans owns a gun. Hmmmm we have enough to make up for those who don't.
I said that I was going to give up starbucks. Now I am hooked on Burger Kings iced coffee. It is sooo goood. My girlfriend calls it my liquid crack. I so need some liquid crack this morning.
I have a very busy day planned. I need to go to the dairy and then to the grocery store. I still have to get some more pet quilts made, and get dinner cooked. I am taking a friend to the air port tonight. I have to call and get Nikki an appointment for a physical.
blah blah blah........
Lets talk about me! I am still on cloud nine. I am so jazzed that I have gotten my foot in the door. I can't wait for tomorrow.
O.K. so people have asked for a hint. Well o.k. I will give you a hint. It has wheels! LOL
Last night Rusty and I went out to dinner and then we went and looked at this house that I found. I so want to buy this house. It is an old craftsmen style home and I have always wanted to restore a home. Rusty said that I would never get my money back out of the house if I did restore it. I suggested that we live in it. Rusty did not like that idea. He said that the next time we move it will be out of California.
Hush his mouth. Move out of California? Oh I do not think so. I can't picture me living any other place. I love California!
So I introduced two marines to each other. Now they are talking about getting married! I am so excited for them. George ( the female marine) said to me "well who will walk me down the aisle? I do not even know who my dad is?" So Rusty has agreed to walk her down the aisle. The George says to Rusty "Did you know that I was born the year you graduated from boot camp!" Rusty just gave George the look of death. I think it is funny.
I need to get busy and get my day started. Here is a video for all the military wives out there missing their men. They wrote this song because on of their friends was a military wife.