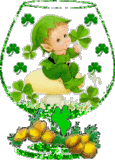 Oh how I wish the luck of the Irish would have fallen on me today! I got a call from one of our friends today. He is STILL in Iraq. His unit got bumped so they wont be home until some time next week! I so hate that!
Rusty and I are going to Vegas next weekend. He has to work the gun show. So I am going to go with him. I think that one of our friends is going to go with us, so that way I will have someone to hang out with all day while Rusty is working.
Kevin's cousin came out here for a visit, so they are staying here. I do not mind having the extra people here. I was happy to have the company today!
I also got a box from my mom and inside the box was a picture of my dad holding me when I was about 4 days old. I just want to cry. I so miss my dad. One of these I am sure that I will be able to look at the picture and not cry, but I have not reached that point yet.
Tonight I am going to go make some chai tea and then I am going to go soak in a tub. I am going to spend the night in my room just doing nothing.