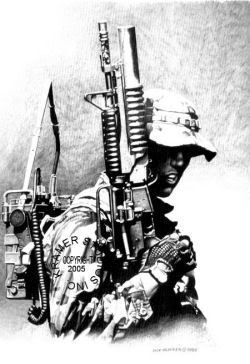 This has been on my mind for a few days now. I must warn you that what I am about to say is real and is not very nice.
Last week I had several conversations with all of the marines that were here. I know rule number one of deployment is to never ask what happened or what they did. I stick by that rule and Rusty never told me what he did. He said that I did not need to know.
With that said. I was talking with Jake one day and he broke out his camera. He showed me pictures of the hummers that were blown up. He told me that while they were out on patrolls the children would run up to them and say "fuck your mother". The guys would just aim their guns at them.
C.J. was telling about what it is like to have bullets go past his head. He told of one of his friends that should be dead because they had to inject so many drugs into him just to TRY to keep him from screaming. C.J. told me how scared he was to watch his friend get put on that air craft, and that he still does not know if his friend is dead or alive.
What do you say to this? I could say nothing. I just sat there and listened to these BOYS tell their stories. I wanted to give them words of advice, I wanted to hug them, but instead I just sat there.
At that moment in time I wanted my dad, I knew that he would tell me what to say. Oh that's right I can't talk to my dad any more. Rick I will call Rick. No I can't talk to Rick either. (Rick is Rusty's dad) Why is it that the men that could answer my questions are gone?
Then I started to think. Do I know any older military wives who I could talk to. Nope. Am I on my own here?
I finally said to Rusty "C.J. and Jake said some things to me that I did not like" Then I explained my self to Rusty, he said that He knows what to say and that I can lean on him for my answers.
I know that in the moments when the boys were talking to me that I grew up just a little bit more. In that moment My eyes had been opened to the reality of war.
Someone once told me that Rusty got meaner after his last deployment. I did not see it, but over time I have. He is not mean to his friends and family, But Lord help the person that even thinks about hurting his family.
War changes people. The marines are different, and I am different. Yes we still dance in the living room, and laugh around the fire, but I can see it in them. I see the look in their eyes that says don't fuck with me. I see them walk around with their fist closed, I see a certain sadness in their eyes.
As their substitute mom I often wonder about these marines. There is nothing I can do for them. I cannot take away what they saw or undo some of the things that they have done.
I do know one thing that I can do. I can open my home up and give them a soft place to land. I just hope that a warm place to sleep and a home cooked meal helps them some.