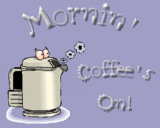 So last night I went to the store to buy some stuff. The first thing on my list was coffee. I think Coffee is the key to me having a good day!
So far this morning I have done two loads of laundry, got the kittens up and fed, checked all my e mails, got the kitchen cleaned, and I am actually dressed before 9 a.m.!
So Amber comes home with a stack of papers that need to be filled out. They were from Ambers work. Now Amber is still working at this little pizza joint that maybe has 8 employees. In this stack of papers were one for homeland security!
I am not sure if I should laugh or be shocked. This is the first time I have ever seen these papers. Is this a sign of the times? A 16 year old who works at local pizza joint has to be reported to homeland security?
I do have to do some running around this morning. Nikki made a cake for one of her teachers, so she asked me to take it up to her school. I have to go buy some new nipples for the kittens bottles. They have managed to chew through there old ones! I swear they are worse then babies someday.
Last night I pulled out this skirt that I made last year. I really like this skirt, so I think I am going to go look and see if I still have the pattern. I just love wearing skirt in the summer. They are so cool.
My boss called me last night and asked me if I was ready to get slammed with some work. So I guess by the end of the week I will be working. I do not mind that much, the extra money will be nice.
O.K. it is time for me to go get my hair done and do my running around before it gets to hot. Can you believe that we have hit triple digits this week!
Oh yesterday I kept seeing smoke like something was on fire. Well I was right. I got up this morning to find out that L.A. is on fire. It does not surprise me, but I am glad that it is not close to us. We have been so dry for so long, and we live near a national forest, so the mountain would go up quick.
I do hope that everyone has a great day!