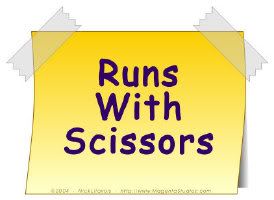 Yesterday was a very productive day for me! I am so amazed at all I got done, and to think that just last week I could not get anything done.
Yesterday evening I decided to go start some work on the front yard. All along the picket fence needed to be trimmed. O.K. this should be an easy task. I called Rusty and asked him if we owned a weed eater. Rusty said that technically we do. Which translate into we have no idea where it is. Thats o.k. I have these hand clippers that I bought at the 99 cent store. OH BOY were they ever 99 cent store trimmer. They last a whole two cuts before they fell apart! I am not going to be detoured. I went and found some old scissors and I trimmed everything up with a pair of old sewing scissors!
Today my boss is coming over to pay me out and we have a little bit of work to do. I need to tie up some loose ends, and make a list for the marines that will "watching" the children. Then I am done!
Tonight some of us girls are going shopping and then we leave in the morning for the concert! I so can't wait. I need a break.
I am liking the new way that aol has set up the journals. It was so easy for me to load the video yesterday. I am computer savvy, so anything that make it easy on me is great.
I can so relate to that video. Our children think they know me so well. They would die if they ever knew that while I was in Germany I partied in a castle, and that I had sex on a throne! I am still amazed that people live in castles and have thrones, but oh well. anyway, back to subject, our children really do not know that much about me. They have only known me for a short time. I had a life before my children and I plan on having a life after my children!
I am so far behind on my sewing, so I have started just sewing one piece a day. I do not know how I have gotten so far behind, but I did. That's o.k. so far no one is bitching about not being able to use the dining room table.
Well, I need to get busy, so that I can enjoy this weekend!