I got up yesterday and asked Jake to put on a pot of coffee. Jake said " mom I think we are out of coffee" Sure enough we are out of coffee and I have no chi tea left! How will I get through this morning?
Mothers Day is next Sunday, I guess I need to go get my mom a card. I think I am going to buy her a gift card for south west airlines. My mom says that she is going to come out in the fall, so this should help her out a little bit.
The people behind us came over last week and told us that they were going to replace the fence, and that it fence would be down for Friday and Saturday. Well it is Monday and the the post are not even in the ground! GRRR I am getting so sick of chaining Butter up.
Today I am going to take my list one thing at a time. That is all I can do. I am hoping that this week slows down!
Yesterday I found a pattern for a dog bed that I want to make, but I must finish all other task first! LOL Here is a picture of the dog bed that I want to make.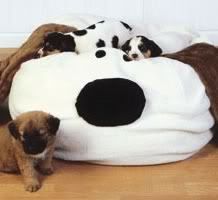 I can just see the cats sleeping on it instead of the dogs!
OH! A few weeks ago one of the Marines brought up their girlfriend and her name was MaryAnn. Well we got to talking and it turns out that her dad is retired Navy. O.K. what ever. Then the other night I was talking to MaryAnn on the phone and Rusty asked me to ask her who her dad was. Well it turns out that her dad is the one who replaced Rusty's shoulder! So we told MaryAnn that if she and Ross break up we are going to keep Her and not the Marine. LOL
O.K. enough rambling. I need to get into the shower and getmy day started. I hope everyone has a great day!