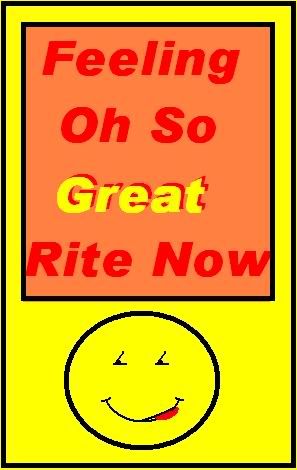 Whatever bug got a hold of me is now gone! That was a nasty bug and I hope no one else gets it.
As you can see from the pictures we had a typical weekend here. Do you like our floor painting? Someone got Amber some sidewalk chalk and paint. Then Amber remembered that we have cement floors. I told her that they could only draw on the floors as long as they made body outlines. Oh the joys of living with our family!
The guy that is a markered up was the first one to pass out. So everyone had fun with him. I am glad that he has a sense of humor. He did not like the fact that we wrote usmc all over his leg..... but then again he is a sailor. LOL
I finally convinced two of the marines to go get the kitten weighed. They are not two pounds yet so I am going to keep them one more week.
Sunday I went and got my poarch swing! I am so happy with it. So beth and i go up to Lowes and I find the swing that I want and it is on sale! i just love a sale. However we could not find a cart to put this huge box in. So finally get it paid for and we are heading out the door when we spot a dolly. So we throw the swing on the dolly and off to the truck we go. We get the swing loaded and then we look at the dolly and load it up as well.
We get back and Rusty says, well let me see this swing and walks out to the truck. He grips the side of the truck and just shakes his head. He can't believe that we brought the dolly home! I am not allowed to play with Beth any more.
I tried loading the pictures of the swing, but they would not load, so I will try tomorrow. Our house is trashed and I really need to get busy cleaning it up. I slept in until 10 a.m. and now I feel so far behind.