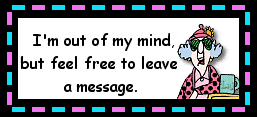 The other day I turned on the computer and I found my play list and hit play. I went about cleaning up and doing other things. I was standing in the kitchen when I realized that the music over. I am a music lover and I have to have tunes going all the time. So I looked over at the computer and I said "Hey Rick put some music on". Nothing happened. I just knew that I had just seen him sitting at the computer. I looked again and the chair was empty. Rick is my late father in law and he has been dead for a few years. I swear to you guys the other day he was sitting here, just like he use to do.
Then today I was standing at the ironing board and Nikki was at the computer. I heard my dad say "I am so proud of you for going out there and changing the world. You will have a lot to write about when they tell you to write what you did over your summer vacation" I turned around to answer my dad, but we was not here. Those word that I heard today were the last coherent words he spoke to Nikki.
Am I loosing my mind?
Anyway last night everyone was gone and Rusty said that he was staying after work to cook out with the guys. Then four marines walk in. They said what's for dinner? I just looked at them/ I had no idea that they were coming home. Then Rusty showed up! So much for a nice calm evening of sewing. Oh well it was good to see everyone. I do not usually get to se the marines during the week.
Today I have pulled out a bunch of meat, since I know that they are coming back tonight.
I have finished another quilt for one of the marines. I will take a picture of it once I give it her. I must admit that while I love to quilt, it also brings me great sadness. I am making yet another round of quilts for yet more of our friends that will be leaving for Iraq. I would to make them quilts just because. Maybe one day I will be able to make some baby quilts for them. That is once they have settled down with and started a family of their own.
Well I need to get back to my day. Lyn and Heather I tried to read your journals, but aohell was giving me a hard time.