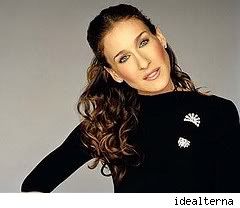 I was looking at Jessica Parkers new line of clothing when I saw this picture. I love her hair. I just wish I could see the back of her hair. I just know with my curls that this hair style would look so cute on me.
I am about to go on a rant so watch out.
Nikki is gone, Amber was out with Sam and another friend. I was stuck at home with Ryan. I told Ryan to turn the video games off and that he was not going to spend his summer playing video games and watching t.v.
I sure hope that today is not what I have to look forward to. None of the children in the neighborhood will play with Ryan. O.K. Ryan will not play with them, and I can't blame him ,since all of the children pick on him. So he sat on the floor and stared at the wall. Then he will go outside and skip the length of the yard, and then it is back to staring at the wall.
I was thinking about going to the lake, but Ryan only wants to go to the lake if someone is "entertaining" him. I just wanted to worship the sun god.
I went to talk to my neighbor who has a daughter with c.p. and I told her what was going on. She said that the t.v. and the video games are the only friends that they really have. What else can we do? We can't force the other children to be nice to him. I can't force him to go hiking, or surfing, or any of the other things that I want to go do.
So where does that leave me? Stuck at home all day? I am just thankful that summer school will be starting soon and at least he will be in class with all of his friends from this year.
I want to know where the guide book is for raising a mentally handicap child. If they were passing them out then I missed it.
Rusty is still sick. I so wanted Rusty to come home so that I could have some adult conversation, but that will not be happening tonight.
I had no adult conversation all day and I won't have any tonight. Right now is the time when I would love to have a job. At least I would have someone to talk to.
Oh I need a girlfriend that I can go get some coffee with.
O.K. enough of the bitching. It will get me no where.