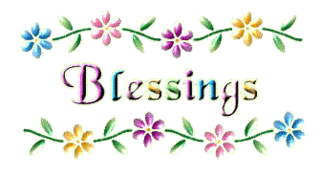 I got some really bad news this morning. I just can't talk about it right now. Not until we work everything out. However I will share the news in the future, so that someone else might learn from what I am going through.
Last night was just filled with blessings. I went and picked up some stuff that someone else was giving away. Then the lady asked me if I would like any of the other stuff. Amber and I just looked at each other. These people had a garage full of stuff. This will really help Amber out as she has been trying to gather stuff for another yard sale.
Nikki's mission trip leader called me and told me that the church gave her $250 for her trip and that she also raised another $50! Cool, that means that Nikki only needs to raise $174 more. Not a problem.
Then this morning we had a meeting at Ryan's school. We got everything that we wanted! I am so happy for Ryan. If Rusty and I do not fight for what is best for him, then no one will.
My mom actually e mailed Rusty and asked him what I would like for my birthday. That is a good question. My mom said that she did not want to send a gift card, but with her living so far away... Anyway, I have been wanting to go kayaking, so I am going to do some research and see if she might be able to get me a gift card to go kayaking.
Nikki is coming home today! I can't wait to see her. I know that she had a blast up in Oregon. Oh! Nikki was in LaGrand, I guess that is in eastern Oregon.
So I should be doing the usual house hold stuff, but I did not get to bed until late, and I hade to get up early, so I just have no energy. Blah