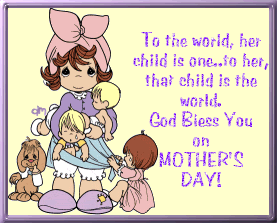 Well happy mothers day to all the moms out there! I am not sure what we are going to do today, but I am just looking forward to a day of doing nothing!
We had a bbq last night and it sure was nice to get together with our friends. I got to sit and rock baby Jack most of the night. There is nothing like rocking a new baby.
*side note* Renee asked me who baby Jack was. Baby Jack is a miracle baby. Our friend Jacinda was so sick the entire pregnancy. She threw up for eight months, was put in the hospital a few times and then would not turn when it was time to be born. So Jacinda ended up having a c section. Baby Jack was born at 35 weeks and is very healthy!
So yesterday I went to some yard sales. I just love going to yard sales. Anyway, I was at this one yard sale and I scored some Pyrex. So I was sitting in this old chair waiting for my friend to finish her shopping when I discovered that the chair I can sitting in was so comfy. The guy sold it to me for $10! I love this chair and it is even kinda funky, just the way I like things.
I am going to go get some coffee and chill for the day!