I would like to know who was the first person to say " no one knows what momma does until mom don't do it!"
So I got up this morning, and put a chicken in the oven. Then I started looking around the house. Here is what I saw.
clean laundry still in the baskets just stacked on top of each....... I guess no one knows how to fold laundry?
I crate that one of our friends in Iraq sent home. It is still sitting by the front door......I guess no one has tripped over it yet, so why move it?
clean dishes in the dish washer, and dirty dishes in the sink........should I expect my children to put away the clean dishes.... oh perish the thought.
The dogs were out of water..... I guess the dogs chasing the water bowl around the house was a clue to no one.
The children's bathroom had no wash clothes, no towels, and no toilet paper........I do not even want to know!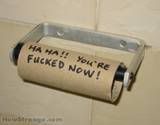 I am slowly getting some of the things done around here. I am just taking it one task at time and trying not to look at the big picture!
Ray called and said that he would be over in a few hours. So I should get by body moving tword a shower. I am telling you that I hurt all over. My arms, my back, my legs, and even where I broke my tail bone! That is cool, because I know that he would do it for us.
The weather has changed, so I think I am going to let Amber have her yard sale tomorrow. We need to get some of that stuff out of the garage because another lady said she had some stuff for us. The lady actually said that all of here stuff would not even fit into two pick up trucks!
I do hope that everyone has a great Friday!
these are not our cats but the sound just like them!