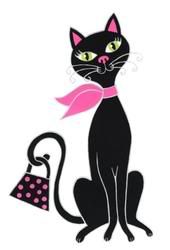 A few years ago Rusty told me that if I wanted any more cats that they would have to match. Well where am I suppose to find another long hair grey persian? So I found a black cat instead. Well now I am feeling a little lonely, so I have been looking at the local animal shelters web sights and none of them have any solid black cats! What's up with that?
I can't believe how lonely I am with out Rusty here. I know, I know, I am a former military wife and I should be use to Rusty being gone, but this is different. I have gotten spoiled and when Rusty told me that he would never leave me again I believed him. I am not saying that Rusty broke a promise, I just so want him to come home.
I have a little surprise for Rusty when he comes home tomorrow. I am going to put a single piece of chocolate. Tonight I am going to wash his blanket so that it will be nice and fresh for him. I have already done a major scrub down and clean out of our room. I am thinking about going to the mall and buying him some new sock and just replacing all of his old ones. I know that he will not know for a few days, but I think he will be surprise that I would do that for him.
All of the children will be out of the house tonight, so I am going to open all the windows and get the floors mopped. I think we need some fresh air in the house.
I got a booklet from our bank about on line bill paying. I am going to go to the web sight and check it out. We know some people who have done it, so I am thinking that we should give it a try.
Tomorrow afternoon I have a job interview. Trust me it is nothing great, it for a house keeper. Rusty just looked at me funny when I told him about it. The pay is good and they are paying cash so there will be no taxes taken out and it is only one day a week. If nothing else it will get me out of the house for a while.
I do need to go get Rusty's blanket in the wash, and I am going to keep looking for another black cat. Yes, I am turning into the crazy cat lady!