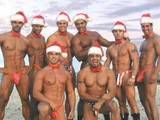 I was tagged by Lisa to list the three things that I want for Christmas and the Three things that I do not want for Christmas.
I want:
1. I would love to get a call from all of our friends in Iraq.
2. I would like my mom to shed no tears on her first Christmas without my dad.
3. I would like for Rusty to love the gift I got him. I can't say what that is since he sometimes reads my journal! LOL
What I would not like for Christmas:
1. anything with a cord that is used for a household purpose.
2. I do not want a cold Christmas.
3. I do not want a fight with my mother.
I am so happy that Rusty is home. Yes Zoe, I love Rusty more then words can say. Rusty is the rock that keeps me safe, but he is also the wind that allows me to soar.
We are pet sitting for some friends. So now we are up to 3 dogs and 4 cats. All of the dogs get along, but the extra cat has found a spot to hide and will stay there until their owners come back.
My mom comes in today! I can't wait to see her. I am just so glad that she will be here for Christmas. I hope that we can make a nice Christmas for her, and that she won't shed to many tears. But if she does then I will be next to her crying too.
O.K. here are the people that I am tagging:
Zoe
lisa41067
Gerry
Nelishia
Heather