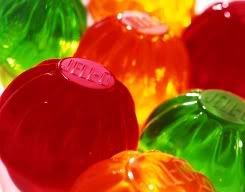 Brr it is cold this morning. According to the news it is suppose to warm up. I hope so because I wanted to give the dogs a bath. They are all getting stinky.
So last night Rusty and I are laying in bed and we are watching some t.v. Then a commercial comes on. I rolled over and looked at him and said "lets get one of those kiddie pools and fill it with jello and have sex in it." He just looked at me like a dog looks at a high pitched sound and said " no, that does not even sound like fun" Bummer for me.
Ryan has running club today and he is really liking this whole running thing. He said that there is another child from his class in running club. I am so happy that he is having a good time.
Rusty is off work today since he has a doctors appointment today. It will be nice to actually have dinner with him. So I am going to make him his favorite dish.
My goal for today is to work on my quilt. I ran out of the material that I bought, so I had to go digging through all of my stashes of material. I think I have found enough to finish the back. The back of the quilt will be pieced to get her, but that is o.k.
Brrr I am still cold!