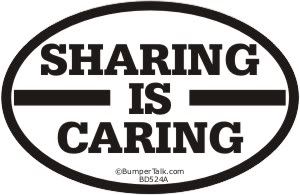 Years ago, and I do mean years ago, my dad came across a family that had nothing. The parents worked and did the best that they could, but their little girl was in need of some stuff. My dad would often buy her clothes, or a bike for Christmas, and even would give the family food. I was never allowed to meet this family, I just over heard conversations about the family.
Was my dad a good man because he gave to help the poor? I think he was. However my dad never to church, so does that make him a bad man?
To this day no matter how little we have I will always give.... in some way. I believe in giving to those that need help.
Last year my girlfriend and I got three complete turkeys dinner and then a few days before Thanksgiving we went to a poor area of town. We went into the store and found three people that looked like they could use a break. One lady broke my heart. She had a few children, and she was caring for mother. Her mother told her to go to the store that the Lord would provide. Her mother was right.
This year I have spent my t.v. time knitting scarfs. I am going to mail the to the battered women's shelter in my home town. I give old towels and rugs to the local animal shelter. There are so many ways that we can all give.
I do believe that I am a richer person for giving. No matter how much food I give away, I still have plenty.
I just wanted to share.