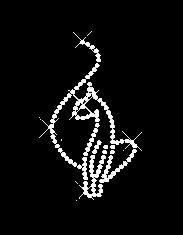 Check it out! Elle and I went to my favorite thrift store and I got Nikki a pair of baby phat jeans for $2.00! It was half price day at the thrift store! I also got our friends daughter this really cute unicorn costume!
O.K. so you can only see the head on it, but it is so cute!
Elle and her brother went back to Alaska today. We always enjoy her coming out here. When Elle comes back in the spring she wants to drive up the coast of California. We want to see hurst castle, the Reagan Library, and I want to see a red wood tree. I think that would be so much fun.
Rusty is in Long Beach for the weekend, so it is just the children and I. Tonight I am going to cook some Mahi Mahi for dinner. Rusty is not a big fish eater so I figured now would be a good time to cook some.
I am going to try to get some sewing done this weekend. I really want to see how these pillows are going to turn out.
Tonight I am allowing Nikkis "boyfriend" to come over. I am not happy that she wants to "date" this kid, but I figured that I told her flat out no she would just do it anyway. I told Nikki that the only way she can see him is if comes over here. So I am not sure what time he will be here, but he will be here at some point tonight.
I hope everyone has a great Friday night!