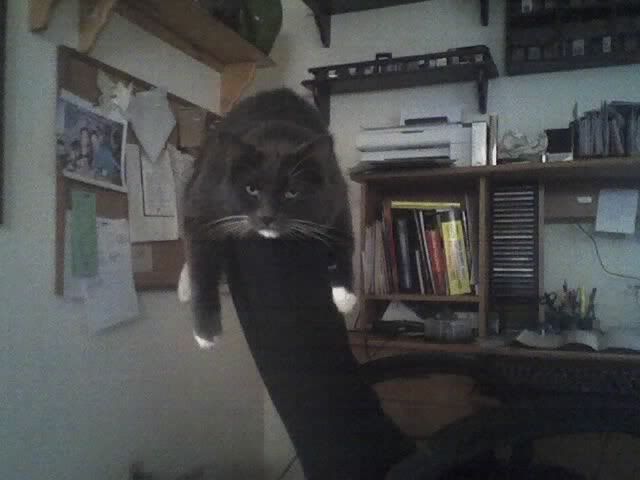 This is our cat Panther. Yes, he is a big boy. The last time he was on a scale he was up to 37 pounds. Don't let his size fool you, he is an awesome mouser! Panther even manages to keep his fur perfect at all time. However he is not a very social able cat.
Here is a picture of the tie pillow. These are so easy to make! I just bought the pillow form and then grabbed some material. I do not know how much material. I just pulled the material up around the pillow and then cut it and sewed it up. I then took the men's ties and wrapped them around the pillow. I did "tack" the ties down so that they would not move, but they can be easily removed if you want to wash the pillow. You can get very creative with the ties and lay them out in so many patterns. I was just not in a very creative mood today.

I told Martha that I would send her some of my cooking ideas. Instead I am going to post some of them here so everyone can use them. Feel free to repost them!
Easy hot ham and cheese
1. package of crescent rolls
some ham or turkey lunch meat
some sliced cheese.
I put one piece of meat and a half of a slice of cheese in the crescent roll and then roll them up. Bake as usual. I make this a lot when I need a quick meal. You can dip the sandwich in mayo or whatever you would like.

Scalloped potatoes
About 5 good sized potatoes
1 can of Cheddar cheese soup
1/2 can of milk
1 cup of shredded Cheddar
cut the potatoes into bite size pieces and boil until they are tender. Mix the soup and a milk together. Drain the potatoes and place in baking dish. Pour the soup over the potatoes and top with shredded cheese. Bake @ 350 for about 10 min. until the cheese is melted.

My trail mix
1 cup of Cherrios
1/2 cup of sunflower seeds or any type of nuts
1/2 of raisins
Mix everything together. real simple! LOL Sometimes I will add holiday m&ms, dried fruit, coconut, or what ever else you would like! This snack packs very well and it is "good for you"

That is all for tonight. Just a side note, I think spell check missed a lot, so dont blame me! LOL