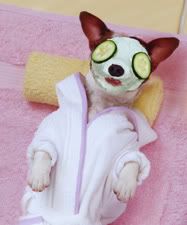 I got together with some ladies today and we had a spa cafe. It was nice and different. Now I am back in the real world.
O.K. I got the quilt top done and all of the pieces pinned together so now I just have to sew it.
I am trying to use up some of my material since I seem to have a lot of it. Anyway I found some stuff to make two baby blankets, so I will get them done. I think I am going to give them away.
That is about all I have done today. Can you believe that I have done nothing productive.
Oh. This guy I use to work with called me and asked me if I would be interested in coming to work for him. This guy use to work for my boss, but now he wants to go out on his own and he wants me to run his office staff. I told him to give me a call and that we would talk more. He did offer me $15 an hour.
When I told Rusty about this, he was not to happy. He said well then who is going to be here with Ryan all day? HMMMM oh that's right. That person would be you. I kinda want this job so that I can just get out of the house.
I need to get moving and start getting some stuff done around here. I think I am going to take Martha up on her challenge to de clutter for 15 a day. Lets start with my husbands stuff! LOL