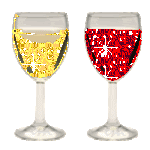 last night some good friends come over. Sonja and I sat down and drank two bottles of wine, and just bitched about life. It is so nice to have friends like that!
At one point in the night her twins got bored, so we gave each of them our cell phones and they called each other for about an hour! It was so cute to see them running around calling each other. I love free nights and weekends!
I woke up this morning with my back just hurting so bad. I could not even stand up! I two of Rustys Tylonel 5 and went back to bed. Once the pain left I was able to get up and get moving. I should have done something crazy to feel that bad!
I talked to my mom today, and she had a bad weekend. She went down to the summer house to close it up and she said it just seemed so final. She is not selling the place, but dad was not there to help her close everything up.
Rusty has his stress test first thing in the morning, so I hope that goes well. I am sure that he will be fine.