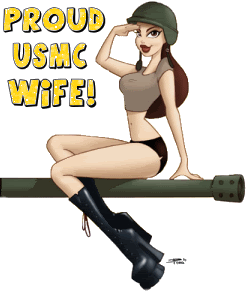 I am so sore and tired. All this week I have loaded and unloaded semi's by hand. I swear to you every muscle in body hurts. My hands are cut up and I have no finger nails left.
However none of that matters tonight. Tonight I am the wife a marine that wants to party. It is the Marine Corps birthday, I will put on the proper dress and go dance the night away.
I feel like that country song..... " she hit the door at 6:55 sack full of greoceries split down side. Canned goods scattered all the way to the curb, the look on her face saying don't say a word. So it is me and her and a can bean sitting there on the front porch swing, with her head on my should she smiled and said... I have been gopher and chauffeur and company chair man, the coffee maker and the copy repair man, any more there anint nothing I swear man that I don't do. I have been struggling and juggling and closing big, I have even danced backwards in high heels. Just when I think I cant make it through.....all I want is to be the women with you.
http://www.youtube.com/watch?v=wuOq0_ThIoU
That will be me tonight. I will forget about my week, and my sore body. I just want to be the lady with my man, and yes I will dance backwards in high heals.
To all the marines out there Happy Birthday! To all of the wives who stand by them..... Go dance, tonight is your night also.