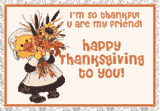 When I was growing up we would spend Thanksgiving with my dads family. ( we were not allowed to know my mom's family, but that is another entry)
There are 8 children in my dads family, but the 8th child came along when I was an adult.
Anyway we would all go over to my The oldest Aunts house and Pop would always bring the pies. Once you get seven children and all of their children and spouses in one house there is bound to be drama.
Every year something would happen. One year my dad got into a fist fight with his next younger brother. Then there was the year that my oldest aunt threw another aunt down the stairs. Oh the aunt that was thrown down the stairs was six months pregnant!
All of us cousins were like steps going down. I got along with my next younger cousin so we would try to hide out in his room so that we would not have deal with our "family"
Since I moved out 17 years ago, I have only been home for the holidays a few times. Nothing has changed. We do not go to my aunts house anymore, but my sister and I fight all the time.
To tell you the truth, going back to my parents house is not going home. I feel like I am intruding on their time with my sister and hell child.
The first year I moved out I called my mom and told her that I wanted to come "home". She told me that I now have a family of my own, and that I needed to start my own traditions.
That is what I have done. Every year we host a bunch a military people who can't go home. Our friends have become our family.
This year I will miss our friends that are serving in Iraq, but I am very thankful for their service.
One a side note, I was just talking with Amber and Rusty yesterday about my dads family. None of my dads siblings showed up for his memorial. As a matter of fact, no one knows where half of them are anyway.
Karen: lives in Vegas and is drinking herself in a grave
Keith: my dad, dead
Kevin: lives in northern in Ind. some where
Katherine: no one knows
Kolette: dead
Kerry: last anyone heard was dyeing of cancer
Jane ellen: no one knows
Anne: no one knows
Normas Rockwell we were not.