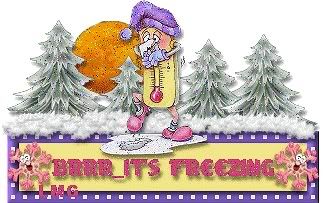 Man I am so bummed that it is cold and windy here. Maybe I am just spoiled? No that could not be it!
So anyway I went shopping today I scored some awesome material and some other stuff, so now I can start making Christmas gifts for next year.
So Rusty and I have not had a ying yang moment today! LOL Actually when I got home from shopping he put his arms around me and told me that he missed me. I swear to you that I am married to the most awesome man.
I don't think I mentioned this yet. My dad really liked his Christmas gift. I found this book that he had been looking for, for 15 years! So on Christmas my mom said that when my dad opened it up he just clung it to his chest. At first she could not tell if he was having a heart attack or just happy. He was just happy.
Rusty also talked to my dad on Christmas and he made the comment that my dad does not sound good. Well he is very slowly being eaten away be cancer anbd infections, so how is he suppose to sound? At least he not on oxygen and drugs through an i.v. any more. Any way, Rusty asked me if I wanted to go home and visit my dad. I told Rusty not right now, because it is just not a good time.
Between Christmas, and paying for all of the stuff for his mothers cremation .... well we just need to build up our savings again.
I do hope that I get to see my father before he dies. And when he does die I hope that Rusty has some really strong shoulders because the girls and I are going to need them to lean on.
One thing I have learned with helping Rusty is that I now know what to do. Let me explain. I know how to get a dd214, where to take the form. what the government will and will not pay for.
Maybe I am suppose to be going through this so that I can help someone else get through this. I am sure that I will some how be able to use this knowledge to help others.
Well I need to go make dinner. I am trying to use up all of the stuff in out freezer before we go shopping again. So for the next few nights our dinners will be a little bit strange. Tonight I am frying up one cube steak, some hash browns, I rolled some hotdogs in a crescent rolls. If you have not tried the hot dogs in a crescent roll you have to try them! They are good and children love them!
Just as a side note that I thought of. On the subject of helping people. Can you imagine how many people who could all help if we just did one nice thing everyday for someone that we do not even know? Any way that is just something to think about.