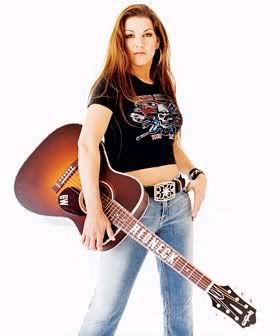 I so like Gretchen Wilson! Yes I am red neck, white trash momma!
I figure if I turn up the music it will get me in the mood to start my day. So far it is not working.
So last night I told the girls to put Dustins car kit in the back of Rusty's truck. I wanted this big ass box out of the hall way! So Rusty calls me this morning to tell me that the box blew apart while he was driving down the freeway. I just busted out laughing! Rusty did not see the humor in it. He said that he just got it all out of the freeway. I told him that he should have left it after all that is what cal trans gets paid for. Rusty was so not happy with that answer.
I want to say a very big welcome to Mary Beth. Mary Beth is Chris mom.... on of the marines. Anyway I told her to grab a cup and sit down, well it took her three cups! I can't wait for Mary Beth to come out. I know that we are going to have such a great time. So welcome Mary Beth, stop by often and have a good laugh with us.
Today I think I am going to clean using trash bags. The house has just gotten away from me, so I am thinking that I should just throw a bunch of stuff out. Rusty say's that if I keep cleaning like that, that we will have nothing left in the house. I think it will be less for me to keep up with.
Today I have to take Amber to get all of her prom jewelry. Then after I am done with that Nikki needs to return her shoes and get a smaller size and she has a pac sun gift card to spend. I am telling you these girls can run me ragged most days.
Our friend Elle called us last night to tell us that she has joined the Marine reserves. Her "job" is being recalled so she went ahead and joined the reserves in hope that she will not get deployed again. Do not get us wrong, Elle would go back in a heart beat if her country asked her to, But she is waiting on her boyfriend to get home from Iraq. All I can say is Semper Fi, and thank you.
Oh Rusty's song just came on! LOL I am as good once as I ever was by Toby Keith. I must laugh because as you get older and gravity takes over the sex is not the same same...... It is so much better.
Enough about that. I need to go kick the dogs off the sofa and clean up the living room. I suggested to Rusty that we get rid of all the furniture and buy some of those giant bean bags. I figured they would be easier to move, so I could really get into the living room and clean. Then we could push them together and make some beds. Rusty did not like that idea.
We are definitely ying and yang.